ALL THAT JAZZ WITH A WAVE OF BLUES
Soulful Southern Sounds of jazz and blues that rings truth that had everyone singing a tune was not all that went down on Tuesday, July 20th. The stars came out to shine on the red carpet and the legends ignited the fuel that made them legendary at Healing through Music: Jazz with a Splash of Blues. The magic took place at the prestigious Aqua Lounge in Beverly Hills, CA. It was all that Jazz and then some. It was a night of love and appreciation all for an amazing foundation.
The Rockstar host of the evening was none other than "Hollywood's Most Notorious" Fashion Coordinator and Fashion Designer, Parris Harris who kept everyone smiling and giggling. Parris even had a moment to strut his stuff in front of the audience.
Roland Wirt, Coordinator/Event Promoter for the Aqua Lounge started the evening off welcoming everyone and paying tribute to a dear friend. The audience sat on the edge of their seats. No one had a clue on what this dynamic evening had in store.
Everyone was there because of the woman with an enormous heart and her powerful cause, Ms. Brandy Sanders, Founder of the Kierrah Foundation. The Kierrah Foundation was started in 2004, by Brandy and her late husband Stan Sanders. The mission of the Kierrah Foundation is to assist young women who have "aged-out" of the foster care system.

Excitement surrounded the illustrious band that was lead by World Renowned Maestro Delbert Taylor. The band would not be complete without World Renowned drummer Kenny Elliott and World Renowned Bassist Bob Lee.


Emmy award-winning CBS2/K-Cal 9 reporter who is also an accomplished jazz vocalist and pianist, Mr. Jay Jackson took the stage soon after. Everyone soon began taping their toes and snapping their fingers to the man that says "Now back to you Pat Harvey." Jay had a surprise guest in the audience who brought in sultry sounds of New Orleans, Ms. Sandra Booker.
The surprises continued as the very talented violinist Chris Woods took the stage and blew everyone away with his magnetic performance.
Brandy introduced one of the beautiful young women that has been a part of the Kierrah Foundation, Jasmine Finley who came to the stage and told everyone how much the Kierrah Foundation has impacted her life. Jasmine is a full time college student with a full time job and a successful modeling career after being casted in one of Parris Harris' fashion shows. Brandy also took the time to thank everyone individually for their support and making this magical night a grand success.
Everyone that came to the stage gave Brandy an immeasurable amount of praises and encouragement of continued support of the vision of her and her late husband Stan Sanders.... The Kierrah Foundation.
On a night filled with Jazz and Blues was also a night of comedy as the Original Bad Girl of Comedy Luenell took over the stage. Luenell had everyone in tears as she gave a vivid detailed account on what Lindsay Lohan was experiencing going and being in jail from her own personal accounts. O...M...G !!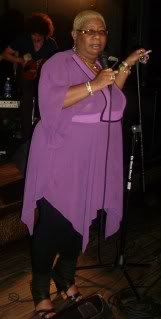 Legendary singer/songwriter Brenda Lee Eager took the event to another level as she initiated a jam session out of this world with the infamous song "Night and Day". As they took the stage one by one Windy Barnes, Marva Smith, Crystal Blake, Nelva Sandefur, Jeff Robinson, Anita Hutchinson, Adlai Hayes, Sandra Booker, Dian Wilson and many more had the stage on fire! Everyone was on their feet.


After Brenda cooled it down with "Funny Valentine" the melodic energy proceeded to vibe as the phenomenal Anita Hutchinson took the stage followed by the soulful Dian Wilson.
The night ended with the grandest of all grand finales with a jaw-dropping performance by legendary tap icon Chester Whitmore and the Chester Whitmore Dancers.

It was an unforgettable night for a marvelous cause. Some of the celebrity guests/supporters who was there for some "Healing" included Award-winning recording artist Norwood Young, International Film-Star/Celebrity Fitness Trainer Xango Henry, Actress Charyse Monet, Actress/Artist/Celebrity host Porscha Coleman, Award-winning R&B/Pop/Hip-hop Sensation, Trueful, Celebrity 'Starmaker"/Philanthropist/Businessman David Harrison Levi, Actress/Publicist a.k.a. PR Princess Eugenia Wright, Actor Victor Morrison, Actor/Graphic Designer Exie Booker, Filmmaker/Fashion Designer Sebastian St. George, Recording Artist Laurnea, Bad girl of Comedy, Luenell, Dancer/Choreographer Andrea Linn and many more.

Healing Through Music is a series that will take place throughout the year to bring forth awareness and raise money for the Kierrah Foundation. Each session will highlight a different era and genre of music.

For more information about and how you can support the Kierrah Foundation, please go to www.KierrahFoundation.org

Special thanks for capturing every moment, Celebrity Photographer Donald Carraway, (Velvet Ropes Ent) who was the Lead Photographer of the evening. Many thanks to Roland Wirt and the entire staff of the Aqua Lounge, Veronica Chisem (Kindred Soul Entertainment), Revina Thomas (Reanti Publicity/Sponsorship Coordinator), Parris Harris (Phashion TV), Eugenia Wright (Isa PR, Kleopatra Girl), Red Carpet Photographers Bernard Hinson, Jr. (Photographer 007) and Will Turner, David Harrison Levi, Dian Wilson, Charyse Monet, Norwood Young, Marva Smith, Brenda Lee Eager, Maestro Delbert Taylor, Kenny Elliot, Bob Lee, Jay Jackson, Sandra Booker, Anita Hutchinson, Chris Woods, Chester Whitmore and the Chester Whitmore Dancers, Derrick Hutchinson (Annerick Management), Betty Jean Coleman, Buddy Sampson (The Scoop LA), Xango Henry, Exie Booker, Andrea Linn, Timo and Betrice Coleman-Sweet (Serving Angels Media).