Essence of Leadership
John Quincy Adams once said, "If your actions inspire others to dream more, learn more, do more and become more, then you are a leader." Rev. Dr. Michael Bernard Beckwith, Rickie Byars-Beckwith, John Bell and Dorothy Stoneman are leaders of the pack. John Bell and Dorothy Stoneman, husband and wife, have been inspiring, loving and changing lives for 40 years with their resilient organization, Youthbuild USA. Rev. Dr. Michael Beckwith and wife, Rickie Byars-Beckwith continue to lead a powerful foundation which is Agape International Spiritual Center for over 23 years.
On Wednesday, July 28, 2010 these leaders met for the first time and it was indeed a gathering of love. John Bell and Dorothy Stoneman traveled to California from Boston, Mass. for Youthbuild USA's Transformation Institute. John and Dorothy are huge admires of Rev. Dr. Michael Beckwith for his spiritual teachings and Rickie BB for her breathtaking music. On this very special day, Rev. Beckwith presented an exceptional announcement and acknowledgment of Dorothy Stoneman and John Bell. So profound that the whole Agape community stood to their feet and gave them a standing ovation. It was truly a remarkable moment in history. A moment of true leaders who live everyday to serve others to actually receive some of the same recognition that they continuously give 10 times fold. To see these leaders give that love and support humbly to each other cannot be explained in words.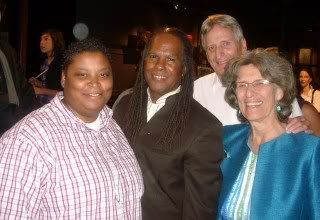 How did this all come about, you may ask? The delightful individual who made it all happen is Brandy Sanders, Founder of The Kierrah Foundation. Brandy is a dear friend of Bea Sweet who is a graduate and facilitator for Youthbuild USA. Bea was responsible for a major collaboration of young people of a local Youthbuild and the Kierrah Foundation. The young people of CCEO Youthbuild of Gardena, CA provided assistance to Brandy for a benefit that would aid the young women of the Kierrah Foundation. Children Helping Children. Brandy is also a loyal member of the Agape family . When she found out that John and Dorothy would be coming to California and having knowledge of their life changing work, she knew it would be an ultimate gift of love to have the 4 of these dynamic souls meet. With Bea Sweet being the facilitator that she is and her love for what is called "the work" she and Brandy made it happen.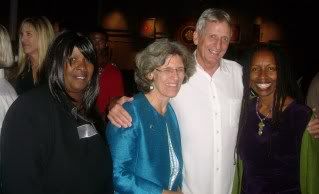 Rev, Beckwith delivered a powerful message at the service. The topic "If you don't like where you live, then change your address!" The message gave insight on our thought process on how we viewed ourselves versus coming to the reality of the phenomenal beings we truly are. Rev. Michael said We should see ourselves through the same eyes that God sees us." Once we can embrace that, everything else will persist as it should. The energy of the night was indescribable however there was no question that there was …LOVE, ABUNDANCE, PROSPERITY, UNITY and SERVICE that embedded in our soul at this amazing service. We are all one! Thank you for allowing us to see the Essence of Leadership.
And So It is!!
Watch the Service and Change your mind, Change it All Around: