Sweet Inspiration for Youthbuild Transformation
Imagine three (3) empowering days of unity, community, leadership and change all while convening with remarkable individuals and surrounded by a beautiful atmosphere. I know you are thinking stuff like this doesn't happen especially in these tough economic times. Well actually, this is very much so a reality and took place at The Youthbuild Transformation Institute from July 27-30, 2010 at the lovely Crowne Plaza Hotel & Resort located in Redondo Beach, CA .
According to the Youthbuild website the Transformation Institute is described as "The YouthBuild Academy holds several Transformation Institutes annually for directors, staff, teachers, counselors, policy-makers, and funders from the youth development, youth leadership, youth employment, after-school, and education arenas. Each Institute offers 10-12 multi-day training courses drawn from the Academy's quality, field-tested menu on the website. Individualized fee-for-service trainings are also available to organizations."
Bea Sweet, a key facilitator of the Transformation Institute and graduate of the Youthbuild Program, kicked it off with towering energy supported by up beat music and visuals provided by Josh Slobig & Ty Weems, A.K.A "Josh and Ty the AV Guys", of A.T.S Audio and Visuals. The attendees of the institute were predominantly staff and students of the various Youthbuild programs from all across the United States. Everyone had their agenda in hand and at the end of the "kick-off" was eager to get the wealth of knowledge that was set out in the days ahead of them.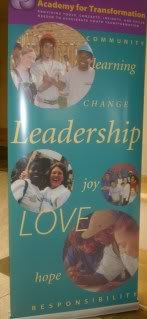 Bea Sweet is well known within the Youthbuild Community for her positively energetic spirit and her words of influence that she bestows upon whoever is there to receive. Bea is a walking testament of the significant impact that the Youthbuild Program can have on a young person's life. She graduated from the program in 2000. Since, then she continues to giveback to the very community that has transformed her life.
Bea's first workshop on Tuesday, July 27, 2010 was entitled "Open Space," which consisted of the attendees presenting topics of discussions for the bigger group . The topics ranged from building the gaps between staff and students of Youthbuild Programs, What the staff would like to see implemented in their programs, What support systems can be in place among other topics. Bea initially explained the ground rules which included the Rule of Two Feet and Motion and Responsibility among other rules. Next there was the ice breaker of everyone getting in a circle as Ty kicked off the music and the group began dancing. They reconvened and began the process. Bea encouraged everyone to write the ideas down on a piece of paper, then place them on a wall that was set up with letters on top and time slots on the side. After the board on the wall was filled with ideas, everyone divided into groups according to the topic and time slots. This exercise took place for approximately 90 minutes. During this process the attendees where free to roam and some even took a break to do some yoga in the center of the room. It was indeed Open Space of growth with Bea guiding the way.
Bea Sweet lead a workshop entitled "Pathways of a Leader" for the students that attended the conference on Wednesday, July 28th and early part of Thursday ,July 29th. The goal of this workshop was to equip participants with a "tool box" of new skills that will enhance their leadership abilities and enable them to strengthen their leadership in their lives, programs, and community. Bea is a true leader in her craft. You can definitely see and feel the passion behind her work.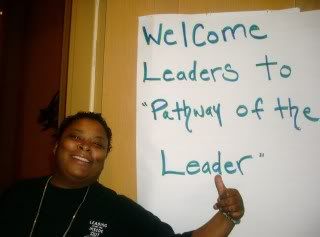 Some of the other workshops available at the T.I. were "The Mental Toughness Experince: Creating an Effective Youth Orientation Experience," " How to Develop YouthBuild Relationships Through Social Media," "Love Rules: How to Help, Young People Develop Healthy Relationships," "Cultural Competency: Working with Diversity and Not Against Difference," "Stress for Success: 8 Practices for Enhancing Your Performance in a Stressed-Out World" and many others. Some of the additional dynamic facilitators include Lyle Grandson and Al Johnson from Respect for Life, Joel Miranda from Just a Start Youthbuild, John Bell Co-Founder and Vice President of Youthbuild, USA, Tamara Thompson of Mockingbird Education, Barbara Duffy of Partners for Community Solutions, Jennifer Lawrence of Northeast Parent Child and Society, Kerry Knodle of Rockford Youthbuild, Cecily Tyler, Michelle Quinn-Davidson and Jamie Ramola of Youthbuild USA .
At the end of the 3 days of these compelling workshops, everyone had the opportunity to give appreciation, discuss their experiences and what tools he/she will take away from the T.I. to transform their communities. Bea Sweet facilitated the process as she walked around the room handing each person that wanted to speak the microphone. After, there was much fun as gifts and prizes were raffled off by Michelle Quinn-Davidson, Director of The Academy of Transformation and Jamie Ramola, Associate Director of The Academy of Transformation and other YB staff members.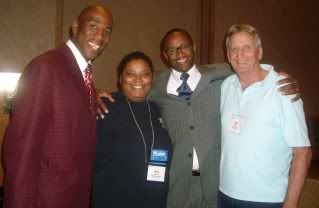 Special thanks to Dorothy Stoneman, Founder and President of Youthbuild USA, John Bell, Co-Founder and Vice President of Youthbuild USA, Michelle Quinn-Davidson, Academy of Transformation Director for YouthBuild USA, Jamie Ramola, Associate Director of the Academy of Transformation for Youthbuild, USA , Bea Sweet, Youthbuild USA Consultant, Liz Riley, Event Coordinator of the Academy of Transformation and the entire Youthbuild Staff.
To find out more and how you can help Youthbuild USA , go to www.Youthbuild.org.
More pics from the Transformation Institute: