The Hair Doctor
She never compromises quality. Gina Everett embraces the title 'The Hair Doctor." In conducting this interview, I crowned her with the same name as many of her clients and friends due to how in depth and passionate she is about hair. Not only is she passionate about hair, as you soon will know that Gina is also focused on health and fitness. She attributes being healthy to being able to service her top, including celebrity, clients. She has been serving some of her clients for over 17 years. From the video shoots with Kanye West and Nicki Minaj, just to name a few, to the motion picture and TV sets. She takes pride in her work. As her bio states, "Gina's style doesn't flow with the latest trends. She's committed to staying outside the box. Her expertise is precision cuts and dimensional colors." The Hair Doctor shares about her success, how she maintains, gives some tips , and what is in store for the future in this interview. Be prepared to get schooled!!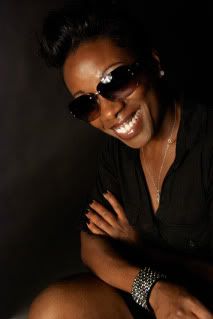 Where are you from?
I was born and raised in Pasadena. My parents are from Panama.
How did you become a stylist? How did it all start for you?
Basically, I started doing my mom's, sisters and cousins hair. I would braid their hair and doing some of the early 80's styles. Then I eventually started doing braiding hair extensions for another stylist. I saw how much fun it was and how much money she was making. The whole industry was real exciting to me. I decided to go to school, got my license and started doing it full time.
How did your journey into film and working with celebrities begin?
It all started with just getting out there. Just talking and putting myself in those positions to meet the celebrities. I also studied my craft and made sure I was up on the latest styles. Just staying connected.
What was it like being on the set and working with a celebrity for the very first time?
I was really observant. I was really excited about how everything worked behind the scenes. It was also exciting for to know that one day that everyone will see all of this. We were creating something for everyone to see.
Who was your first celebrity client?
The very first one…hmmmm… I probably would not call him a celebrity but I guess he became later. It was Rodney King. He was my first one. He is from my area. After he had the incident that happened to him, I used to braid his hair. I guess you could say he was the first.
How long have you been a hair stylist?
I have been a stylist for over 17 years.
How hectic is your schedule right now?
Right now it is pretty hectic. Having to rearrange my schedule is really challenging for me. I have clients that I have been doing their hair for the last 17 years and sometimes I can't accommodate them because I am doing other things. Yes, I am getting really, really busy.
Being that you have a really busy schedule do you ever have time for yourself? Do you have children?
I don't have any small children. I do have a son and a daughter, they are both adults. I do find the time for myself. I think it is really important for me to take care of myself. If not, I would not be able to stand all day. I would not be able to be energetic or move around as much. I am also a health fanatic. I try to work out every morning but lately it has been turning out to about 3 or 4 days a week. I believe if you don't do it first thing in the morning then it won't get done. So I do between 45 minutes to an hour. I also meditate in the morning, so that's where I find the time for myself.
What is your eating regiment like?
Being in the kind of industry I am in, it kind of goes along with fashion. I think for an overall healthy look with hair, skin, and everything does start with your diet and how you take care of yourself. I only eat fish, chicken and vegetables. I stay away from those other things because it kind of compromises my system. I feel better. I am able to move around better without all of those weighted elements in my body. I drink a lot of water, specifically alkaline water. It PH balances your system. A lot of people actually have the alkaline water systems in their homes. However, you can buy it at any health food store like Henry's or Whole Foods. If you look it up online, it explains that diseases such as diabetes and cancer lack PH balance so this water helps balance that. When you drink this it is for your health. I think everyone should know about it.
Tell us about some trending hair style, specifically for African American women?
I think African American women are going shorter. Well they are either going shorter or extra long. No one is really in those in between stages. I think I am an expert at everything, which I know is an oxymoron but because I have been doing it so long I think I can say that. I have perfected the short hair cuts, extensions and the color. I think it is going in the short hair cuts and the color. I am kind of talking everyone in to cutting their hair off. (giggles) It helps you stay in style. You can throw anything on and still look stylish because you have this funky little hair cut. I think more of the "run your fingers through the hair" type of styles and not so much of the curls where it is like "Oh my God, don't touch my hair" type of style. It is more youthful and easier to take care of. Most of the softer, sexier hair styles are what's coming in.
What about the natural styles?
Yes, a lot of women are finding that the sister locks works best for them. Actually I have seen a few women who have just let their hair go and just getting a shape up. I feel that you should go with whatever fits your personality. You should do your own individual thing.
As a stylist, how do you define that right style to fit your clients' personality?
First I will say that everyone is different and everyone's hair is different. Everyone can't do the same thing. I start there. I examine what type of texture they have, and then we discuss what type of length they want to have. Maybe they want to grow their hair out or maybe they want to keep it short. Then I take a look at their lifestyle and see what they can handle at that point. Some people are really active; some people sweat so it all depends. It has to be workable especially for African American women.
Do you teach as well?
It is funny that you asked me that because that is my ultimate goal to have my own hair academy. It is something that I am constantly searching and researching. I am currently gathering all my information, contacts and the people who are going to work with me. I am always talking to new hairstylist and asking them what their goals are in hopes of becoming a part of my team. It is my dream to have the hair academy. It will not be just for African American Women but I want to incorporate all nationalities and all hair types. I believe as an African American woman, I can do other nationalities hair very easily. I think it is a great thing to cross over.
Do you have any hobbies? If so what is it?
Besides working out and staying healthy what I really like comedy. I like to laugh. I like music therefore; I like to go to a lot of concerts. I also like to travel.
Tell me about your best celebrity client? Why s he/she your best?
I would have to say Nicki Minaj. I really respect what she is doing. She has created herself out of nothing. I look up to people such as her. That is pretty much where I feel I am headed.
Do you have any words of inspiration for the young women who are up and coming stylist?
I would like to say that if hair is your passion and then put your focus on whatever your craft is whether it is hair cutting, hair styling or hair coloring. Focus in on something. I know cosmetology offers a wide range of services and you should take advantage of all of them. But when you have a specialty then people start to look at you for your special talent and if you can perfect that I think you can go a long way.
Affirmation that you live by everyday
I never compromise on quality. Whenever I do anything in any area of my life I have to do it as such that I feel comfortable to putting my name on it.
How did you get the name , "The Hair Doctor"?
Well it has happened a couple of times with a couple of friends that they call me the Hair Doctor. When someone asks me a question, I go technically into it. I thought it was kind of cute so it has been sticking with me. It has been following me around and I like it.
There is more in store from the Hair Doctor. She will have a grand re-launching Red Carpet event at her fabulous new location at the 360 Atelier Salon on Melrose in the heart of WEHO next month. Lights, Cameras, Action and stars will be in the building to celebrate! Stay tuned for coverage and pics!!
WWW.THEGINAEVERETT.COM